Награда "Ниро"
Добавлено:
04 окт 2009, 23:24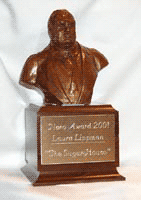 Премия «Ниро» вручается организацией «The Wolfe Pack» (официальным обществом Ниро Вульфа).
Организация проводит целый ряд мероприятий, в том числе регулярных. Каждый год, в первую субботу декабря, в Нью-Йорке проходит "Банкет черной орхидеи" ("The Black Orchid Banquet"). Кроме ежегодной премии «Ниро», с 2005 года "Wolfe Pack" присуждает еще одну литературную премию - "Премию Арчи Гудвина" ("The Archie Goodwin Award"). Этой премии удостаиваются те авторы детективов, чье творчество произвело впечатление на большинство членов сообщества. Третья литературная премия, учрежденная "Wolfe Pack" совместно с "Alfred Hitcock Mystery Magazine", - это премия "Черная орхидея" ("The Wolfe Pack Black Orchid Award"). Этой премией с 2007 года награждаются детективные произведения малой формы - рассказы или повести.
Сайт:
http://nerowolfe.com/htm/literary_award ... /award.htm
Синим цветом выделены победители


Жирным шрифтом выделены произведения, изданные на русском языке

За 1978 - Лоуренс Блок "Взломщик, любивший цитировать Киплинга" (The Burglar Who Liked to Quote Kipling)


1979 - Burn This, by Helen McCloy)
1980 - Death in a Tenured Position, by Amanda Cross
1981 - Хью Пентикост (Past, Present and Murder)
1982 - Марта Граймс (The Anodyne Necklace)
1983 - Emily Dickinson Is Dead, by Jane Langton
1984 - Дик Лочте (Sleeping Dog)
1985 - Murder in E Minor, by Robert Goldsborough
1986 - Шарлотта Маклеод (The Corpse in Oozak's Pond)
1987 - не вручалась
1988 - не вручалась
1989 - не вручалась
1990 - Тони Хиллерман (Coyote Waits)
1991 - Роберт Бэрнард (A Scandal in Belgravia)
1992 - Джон Даннинг (Booked to Die)
1993 - Old Scores, by Aaron Elkins
1994 - Шарин МакКрамб (She Walks These Hills)


1995 - Лори Кинг "Нелепо женское правленье" (A Monstrous Regiment of Women)


1996 - Майкл Коннелли "Поэт" (The Poet)
1997 - Деннис Лихейн "Святыня" (Sacred)
1998 - Джеффри Дивер "Коллекционер костей" (The Bone Collector)
1999 - Coyote Revenge, by Fred Harris
2000 - Лора Липпман (The Sugar House)


2001 - Линда Фэйрстайн "Мертвецкая" (The Deadhouse)


2002 - С.Дж. Розан (Winter and Night)
2003
«Н» – Уолтер Мосли (Fear Itself)
"Burning Garbo" by Robert Eversz;
"Where the Truth Lies" by Rupert Holmes;
"Fat Ollie's Book" by Ed McBain;
Джеффри Дивер "Исчезающий" - "The Vanished Man" by Jeffery Deaver
2004
Роман:
«Н» – Ли Чайлд «Враг» (Enemy, The)
Дэвис Лисс "Ярмарка коррупции" - A Spectacle of Corruption by David Liss (Random House)
The Drowning Tree by Carol Goodman (Ballantine)
Награда Арчи Гудвина:
Рекс Стаут,
Агата Кристи,
Артур Конан Дойл
2005
«Н» - Тесс Герритсен "Смертницы" - Vanish by Tess Gerritsen
2006
Роман:
«Н» - All Mortal Flesh by Julia Spencer-Fleming
Kidnapped by Jan Burke
A Stolen Season by Steve Hamilton
Награда Арчи Гудвина:
Дороти Сейерс (Dorothy L. Sayers)
Награда «Черная орхидея»:
John Gregory Betancourt «Horse Pit»
2007
Роман:
«Н» - Джонатан Сантлоуфер "Анатомия страха" - ANATOMY OF FEAR by Jonathan Santlofer
GLASS HOUSES Jane Haddam, St. Martins Minotaur
THE BURNT HOUSE Faye Kellerman, William Morrow
IN THIS RAIN S. J. Rosen, Delta
IN SECRET SERVICE Mitch Silver, Pocket Star
Награда «Черная орхидея»:
Michael Nethercott «O'Nelligan's Glory»
2008
Роман:
THE DARK TIDE Andrew Gross, Harper Collins
«Н» - THE TENTH CASE Joseph Teller, MIRA
THE FAULT TREE Louise Ure, Minotaur Books
Награда «Черная орхидея» (новелла) - Steve Liscow "The Strangle Hold"
2009
Роман:
THE FLEET STREET MURDERS. Charles Finch
CRACK IN THE LENS. Steve Hockensmith
"Н" - FACES OF GONE. Brad Parks
Новелла (The Black Orchid Novella Award):
"Н" - Brad Crowther "Politics Make Dead Bedfellows"
2010
Роман:
Тесс Герритсен "Гиблое место" - Ice Cold by Tess Gerritsen -- Ballantine Books
The Book of Spies by Gayle Lynds -- St. Martin's Press
"Н" - Луиза Пенни "Хороните своих мертвецов" - Bury Your Dead by Louise Penny -- Minotaur Books, an imprint of St. Martin's Publishing Group
The Midnight Show Murders by Al Roker -- Delacorte
Джон Вердон "Загадай число" - Think of a Number by John Verdon -- Crown
Новелла:
"Н" - James Lincoln Warren "Inner Fire"
2011
Роман:
Guilt by Association, Marcia Clark
Тесс Герритсен "Гробовое молчание" - The Silent Girl, Tess Gerritsen
Энтони Горовиц "Дом шелка. Новые приключения Шерлока Холмса" - The House of Silk, Anthony Horowitz
Пол Макьюэн "Спираль" - Spiral, Paul McEuen
"Н" - Though Not Dead, Dana Stabenow
Black Orchid Blues, Persia Walker
Новелла (The Black Orchid Novella Award):
"Н" - Robert Lopresti for "The Red Envelope"
2012
Роман:
Antiques Disposal, Barbara Allan
Truth of All Things, Kieran Shields
Burning Midnight, Loren D. Estleman
"Н" - Dead Anyway, Chris Knopf
Новелла:
"Н" - Susan Thibadeau "The Discarded Spouse"
2013
Ask Not, Max Allan Collins, Tor&Forge Books
Three Can Keep a Secret, Archer Mayor, St. Martins Press
"Н" - Дэвид Моррелл "Изящное искусство смерти" - Murder as a Fine Art, David Morrell, Little, Brown & Company
A Study in Revenge, Kieran Sheilds, Crown Publishing Group
A Question of Honor, Charles Todd, William Morrow/Harper Collins
Новелла:
"Н" - K.G. McAbee for "Dyed to Death"
2014
Роман:
HARBIE'S GAME, by Timothy Hallinan (Soho Press)
THE DETECTIVE & THE PIPE GIRL, by Michael Craven (HarperCollins)
FIRST LIGHT, by Al Lamanda (Five Star)
THE DETECTIVE, by James Patrick Hunt (Cengage Gale)
"Н" - PETER PAN MUST DIE, by John Verdon (Crown)
Новелла:
"Н" - Mark Thielman "A Meter of Murder"
2015
Роман:
Past Crimes, Glen Erik Hamilton, Morrow (Harper Collins)
Crazy Mountain Kiss, Keith McCafferty, Viking
"Н" - Night Life, David Taylor, Tor Forge
This Side of Midnight, Al Lamanda, Five Star Publishing
Hard Latitudes, Baron R. Birtcher, Permanent Press
Новелла:
"Н" - Steve Liskow for "Look Wat They've Done to My Song, Ma"
2016
Роман:
Death at Breakfast -- Beth Gutcheon (Harper Collins)
Home -- Harlen Coben (Penguin Random House)
Surrender, New York -- Caleb Carr (Penguin Random House)
"Н" - With Six You Get Wally -- Al Lamanda (A John Becker Mystery, Five Star Publishing)
Новелла:
"Н" - Mark Thielman "The Black Drop of Venus"
2017
Роман:
The Dime by Kathleen Kent, (Mulholland Books / Little, Brown)
The Lioness is the Hunter by Loren D. Estelman (Forge)
Gone to Dust by Matt Goldman (Forge)
"Н" - August Snow by Stephen Mack Jones (Soho)
Blood for Wine by Warren C. Easley (Poisoned Pen Press)
Новелла:
Minerva James and the Goddess of Justice by Mark Bruce
2018
Роман:
Walter Mosley "Down the River unto the Sea" (Mulholland)
Новелла:
Ted Burge "The Red Taxi"